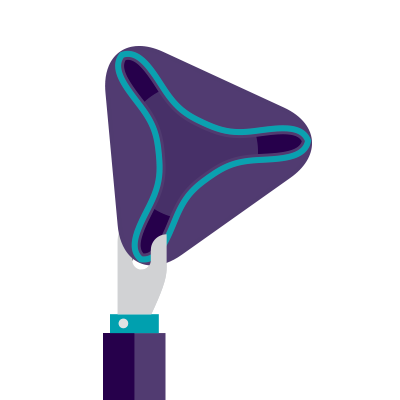 Script
Committee Meeting
Committee consideration of a bill allows parliamentarians to consider opinions from experts on the subject of the bill. The minister responsible for the bill will usually come to the meeting to explain the bill and to answer questions. In this case, we are simulating a Committee of the Whole, after the bill has been read for the second time.
Committee of the Whole takes place in the Chamber. The business of the Senate or the House of Commons is suspended and the proceedings are presided over by the Chair of the Committee of the Whole. The Cabinet minister responsible for the bill and departmental officials are invited into the Chamber to participate in the deliberations. Other witnesses may also be invited to appear before the committee.
Committees are more informal than the proceedings in the Senate or the House of Commons. Tables are placed in a rectangular formation: the Chair sits at the centre of one end, and parliamentarians take seats on either side. Members of the Government normally sit to the Chair's right, while the opposition sit to his or her left. Witnesses are seated at the end of the table opposite the Chair. Parliamentarians do not stand when addressing the committee. While ministers continue to be called by their title, senators and MPs are usually referred to by name in committee meetings.
[For the purposes of the simulation, the minister in charge of the bill may be the only witness.]
Key Players
Senate: Chair, minister, senators
House of Commons: Chair, opposition MPs, Government MPs, witness (minister in charge of the bill)
Simulation
Senate:
Chair

"Order, please. The Senate is in Committee of the Whole on Bill S- ... (name of bill). Shall the title be postponed?"

Some Senators

"Agreed."

Chair

"Shall the preamble be postponed?"

Some Senators

"Agreed."

Chair

"Shall clause 1, the short title, be postponed?"

Some Senators

"Agreed."

Chair

"Clause 2. At this point I invite the Minister to make an opening statement, followed by a question and answer period."

[The minister makes an opening statement on the purpose and content of the bill, and answers questions directed to him or her, or his or her officials.]

Chair

"Shall clause 2 carry?"

Some Senators

"Agreed." (Government senators)

Some Senators

"No" (or) "On division." (Opposition senators) [This indicates that they are opposed to the clause being carried, but do not wish to have a vote.]

Chair

"Carried." (or) "Carried on division."

"Shall clause 3 carry?"

[Senators may propose amendments to any clause of the bill as it is about to be voted upon.]

Opposition Senator

"Mr./Madam Chairperson, I would like to amend the clause by ..."

[Senators opposed to the amendment have a chance to voice their opinion after the amendment has been proposed.]

Government Senator

"Mr./Madam Chairperson, I oppose this amendment because ..."

Chair

"Shall this amendment carry?"

Some Senators

"Agreed." (Opposition senators)

Some Senators

"No." (Government senators)

Chair

"I declare the amendment negatived/carried. [This means that the amendment was not/was accepted by a majority of the committee.] Shall clause 3 carry with/without amendment?"

Some Senators

"Agreed." (Government senators)

Some Senators

"No" (or) "On division." (Opposition senators)

Chair

"Carried" (or) "Carried on division."
"Shall clause 4 carry?"

[This process would continue through the whole bill. Finally the Chair asks:]

Chair

"Shall clause 1, the short title, carry?"

Some Senators

"Agreed." (Government senators)

Some Senators

"No" (or) "On division." (Opposition senators)

Chair

"Carried" (or) "Carried on division."
"Shall the preamble carry?"

Some Senators

"Agreed." (Government senators)

Some Senators

"No" (or) "On division." (Opposition senators)

Chair

"Carried. Shall the title carry?"

Some Senators

"Agreed." (Government senators)

Some Senators

"No" (or) "On division." (Opposition senators)

Chair

"Carried. Shall the bill carry?"

Some Senators

"Agreed." (Government senators)

Some Senators

"No" (or) "On division." (Opposition senators)

Chair

"Carried."
"Shall I report the bill without amendment? Agreed."

[Bill is carried and reported.]

[Note: Every time the Chair hears someone say "On division," he or she will repeat it after declaring a vote carried, to signify there was some opposition.]
House of Commons
Chair

"Order, please. Today we begin our consideration of Bill C- ... (name of bill) and we have with us today the Minister of (name of Cabinet position). Minister, do you have opening remarks? [If yes, the Chair introduces the minister by saying:] Mr./Madam Minister ... [If no, the Chair begins to call questioners.]"

[The members of the committee ask the witness (the minister responsible for the bill) questions they have prepared. The Chair chooses the order of those asking questions.]

Opposition MP

"Mr./Madam Chairperson, I wonder if the Minister of (name of Cabinet position) could explain to us ..."

Minister

[The minister answers the question.] "Mr./Madam Chairperson ..."

[The witness answers all the questions put to him or her. Every clause of the bill is then individually voted on. Instead of beginning with the first clause, the second clause is the first to be considered. Each clause is then voted on in order (i.e., third clause, fourth clause, etc.) until all clauses have carried. As each clause is called, MPs may propose amendments or ask questions. Only then will the committee vote on the first clause, or main motion, of the bill.]

Chair

"Shall clause 2 carry?"

MPs in Favour

"Agreed."

MPs Against

"No" (or) "On division." [This indicates that they are against the clause being carried, but not opposed enough to force a counted vote.]

Chair

"Carried" (or) "Carried on division."
"Shall clause 3 carry?"

[MPs may propose amendments to any clause of the bill as it is called and before it is voted upon.]

Opposition MP

"Mr./Madam Chairperson, I would like to amend clause 3 by deleting the words ... and adding ..."

[MPs in favour of and opposed to the amendment have a chance to voice their opinion after the amendment has been proposed by the Chair.]

Chair

"Mr./Madam (surname of MP)."

MP

"Mr./Madam Chairperson, I oppose/support this amendment because ..."

[When no further MPs wish to speak, the Chair will continue:]

Chair

"Shall this amendment to clause 3 carry?"

MPs in Favour

"Agreed."

MPs Against

"No."

Chair

"I declare the amendment negatived/carried." [This means that the amendment was not/was accepted by a majority of the committee members.] "Shall clause 3 carry?" (or) "Shall clause 3 as amended carry?" [This questions will depend on whether the amendment passed.]

MPs in Favour

"Agreed."

MPs Against

"No" (or) "On division."

Chair

"Carried" (or) "Carried on division."
"Shall clause 4 carry?"

[This process would continue through the whole bill. Finally the Chair asks:]

Chair

"Shall clause 1 carry?"

Some MPs

"Agreed."

Some MPs

"No" (or) "On division."

Chair

"Carried" (or) "Carried on division."
"Shall the preamble carry?"

MPs in Favour

"Agreed."

MPs Against

"No" (or) "On division."

Chair

"Carried" (or) "Carried on division"
"Shall the title carry?"

MPs in Favour

"Agreed."

MPs Against

"No" (or) "On division."

Chair

"Carried" (or) "Carried on division"
"Shall the bill carry?"

MPs in Favour

"Agreed."

MPs Against

"No" (or) "On division."

Chair

"Carried" (or) "Carried on division."
"Shall I report the bill? Agreed."

[The bill is carried and subsequently reported back to the House.]

[Note: Whenever an MP calls out "On division," the Chair will repeat "On division" as he or she says the clause is carried to signify there were some MPs opposed.]